Build a presence, uplift your brand, and sell your products on the Metaverse
Realise your Metaverse strategy, reach new audiences and engage your customers on new and emerging commerce channels.
'The Metaverse' is a term often thrown around without much context and for businesses looking to explore the new digital frontier of eCommerce, it can be quite overwhelming to figure out where to begin.  
We collaborated with Naked Life Beverages to build a Metaverse Commerce solution that helped them explore the opportunities and potential of Decentraland as a platform to reach new customers, connect and engage with their target audience.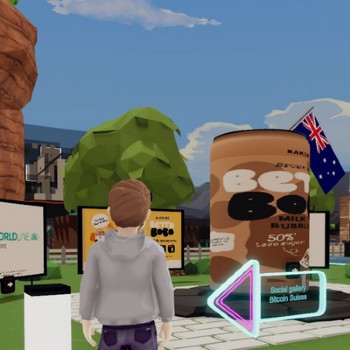 Who is Naked Life Beverages?

Naked Life Beverages is proudly Australian-owned, Australian-made and Australian-crafted, delivering 'better for you' drinks that are no/low in sugar, low in calories and uncompromising on taste!
Starting out with three iconic flavours, Naked Life has successfully scaled up a large range of refreshing soda's, iced teas full of antioxidants and have just launched a brand new range of functional sparkling nootropic drinks with "impact you can feel" as well as Australia's first Better for you ready to drink Bubble teas with less sugar and artificial stuff!
What is 'The Metaverse'?
The Metaverse is used broadly to describe digital and virtual environments where people gather, interact, collaborate and buy products and services.  Some examples of metaverse platforms include games such as Minecraft or Fortnite, or virtual worlds such as Decentraland. 
These platforms enable users to interact with all parts of the environment through a personalised avatar or "virtual twin", chat, talk, consume and buy digital products directly in the platform such as movies, avatar skins and clothes, or even buy physical goods and have them delivered to their doorstop.  Logically, where there is social interaction, commerce models emerge, inside of the metaverse but also connected to the physical world. As more users join these platforms, it increases the potential opportunity to major brands and companies for branding, activation and engagement with a captive, tech friendly audience.
How we helped Naked Life Beverages explore Metaverse Commerce
Users explore Decentraland and the Worldline Metaverse Showcase.
Naked Life Beverages partnered with ANZ Worldline Payment Solutions to pilot a Metaverse Commerce experience where they could reach their target audience in Decentraland, it was an exciting opportunity to trial a new engagement channel to drive brand awareness through to intent to purchase.
Innovation is our number one driver of competitive advantage for our business, across our better for you drink portfolio and how we work with partners. Entering the Metaverse is an obvious next step for us,

David Andrews - CEO Naked Life Beverages
Ready to get started?
Request a call back.
Need more information?
Call us and we'll help find the right solution for your business.
Need support?
We're available 24/7 to support your existing mechant facility.
ANZ Worldline Payment Solutions means Worldline Australia Pty Ltd ACN 645 073 034 ("Worldline"), a provider of merchant solutions. Worldline is not an authorised deposit taking institution (ADI) and entry into any agreement with Worldline is neither a deposit nor liability of Australia and New Zealand Banking Group Limited ACN 005 357 522 ("ANZ") or any of its related bodies corporate (together "ANZ Group"). Neither ANZ nor any other member of the ANZ Group stands behind or guarantees Worldline.